10 jan
Burgemeester Henriette Reker leeft volgens mij in een heel andere wereld dan ik. Ze suggereerde afgelopen week dat vrouwen zich aan een gedragscode moeten gaan houden zodat ze niet lastiggevallen worden door agressieve, oversexte vieze zandvlooien die hun handen (en erger) niet thuis kunnen houden. We zitten nu midden in de winter, wat moet dat in de zomer worden als de winterjas verruild wordt door zomer kleding omdat het dan warm is? 😯 Mogen wij vrouwen dan eigenlijk nog wel naar buiten of naar het zwembad of denkt naïeve Henriette dat we dan massaal in allesbedekkende lappen gaan lopen?

Ik vraag me echt af waar het heen moet met onze vrijheid. Wie moet zich nu eigenlijk aan passen? De "vluchteling" die naar Europa komt omdat het in zijn eigen land onveilg is en die nu profiteert van onze gastvrijheid en alle voorzieningen die daarbij horen, of wij weer omdat wij het met zijn allen niet voor elkaar krijgen om de roversbende in Den Haag en de rest van de regeringslijers leiders in te laten zien dat er toch echt iets moet gebeuren zodat wij niet nog verder uitgeperst worden als een citroen en nu ook niet eens meer veilig over straat kunnen lopen!
Wordt ongetwijfeld vervolgd.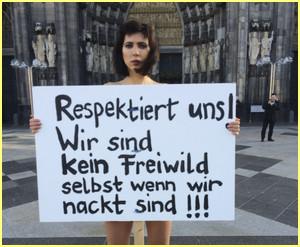 Update 12 januari 2015:
Volgens de Amsterdamse Burgemeester Eberhard van der Laan zijn aanrandingen zoals in Keulen in Amsterdam uitgesloten. "Ik vind Amsterdammers daar veel te lief voor en we stellen grenzen".
Als je dit gehoord of gelezen hebt dan zou je bijna in de lach schieten door zo'n idiote uitspraak van iemand waarvan je toch zou verwachten dat hij meer verstand heeft.
Alleen is het niet om te lachen het is te gek voor woorden dat dat naïve thee drinkende burgervadertje  dit naar buiten durft te brengen!
Beste Eberhard, ik hoop echt dat u gelijk gaat krijgen!
Maar ik vrees dat als er hier wat gebeurt het gewoon in de grote doofpot gestopt wordt zoals gewoonlijk. Maar de Nederlander "het uitgeklede klootjesvolk" zeg maar, begint het (gelukkig) aardig zat te worden en gaat eindelijk tegensputteren.
Neem nog een koppie goede nachtrust thee kerel en slaap gewoon verder.